James Greenwood College,
Buenos Aires, Argentina


I am a Language and Literature, and Social Studies Sixth Grade teacher. We did Literature Workshops, Photo Workshops and contests. I also instituted and directed school trips and "inter-subjects activities" about art and cinema.

Here we can see one of the activities I prepared for Social Studies: General Elections for the Student Council. It is the first time not only for the school but also for students. The whole process (from the creation of the parties and platforms to the organisation of the balloting) is supervised by sixth graders. The party elected did a good government, trying to follow the promises made during the campaign. This was the way to experience the importance of participating in the society as well as the decision-making process.



The Unión Cívica Colegial (LISTA 3) during the campaign. Their platform: Save the Planet!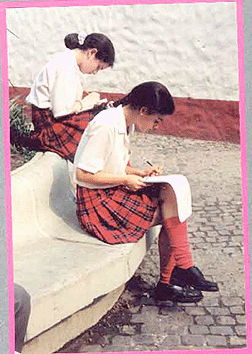 Abigail and Pilar preparing their speeches.



The ballots!




First Graders are ready to vote! A few of them are having "last minute talks" to make a decision.



Juan and Flor and Pablo: opening the ballot boxes and counting the votes... Who is going to win?



"My fellows Argentineans..." Mr. Juan Manuel Rodriguez Cortez, new president of the student council, in his happiest ride.